The Electric Prunes
David Axelrod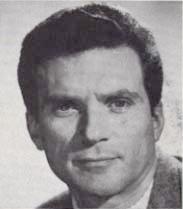 Picture of a young David Axelrod
Late in 1967, David A. Axelrod became the composer and arranger for the Electric Prunes's 'Mass in F Minor' album which was recorded totally in Latin and took the form of a Catholic mass. The LP was released in early 1968 and reached number 135 in the US charts. The majority of the original Electric Prunes played on the LP but Axelrod, Hassinger and Poncher thought the recording was taking too long. Thus, Hassinger's other Reprise act - The Collectors from Canada - completed the album. The title track from the LP - 'Kyrie Eleision' - featured in the film Easy Rider.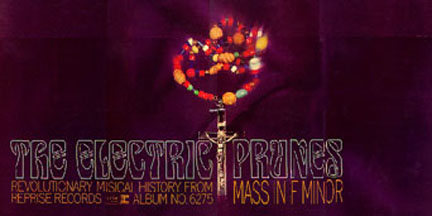 'Mass in F Minor' Billboard Advert (1968)
Based on the success of the 'Mass in F Minor' LP, Axelrod was given another opportunity to deliver a similar LP later on in 1968. This time the LP - 'Release of an Oath (The Kol Nidre)' was recorded in English but with a new line-up and many session players. The LP wasn't as commercially successful as 'Mass in F Minor' but it has recently been used by hip-hop artists to sample beats to include in their own recordings. After this recording, David Axelrod parted company with Dave Hassinger and The Electric Prunes and went on to become a successful solo artist and producer.
A Grammy award-winning producer for Capitol Records who helmed dozens of great jazz, funk, and soul records during the 1960s and '70s (by everyone from Stan Kenton to Lou Rawls to the Electric Prunes to Cannonball Adderley), David Axelrod also forged a distinctive musical style while recording several of the most eccentric albums of the '70s. His sound, as immediately recognizable as it is sparse, combined cavernous, heavily mic'ed drums with baroque orchestration (just a step away from overblown) and ahead-of-his-time themes ranging from the environment to heightened mental awareness.
Born in Los Angeles in 1936, Axelrod learned about arrangement and production largely on his own. He began working as a staff producer for the cool jazz labels Specialty and Contemporary, and led a pair of 1959 LPs -- Free for All by Frank Rosolino and The Fox by Harold Land -- that developed an earthy response to the trademarked light, airy sound of West Coast jazz.
By the mid-'60s, Axelrod had grown famous in soul and jazz circles for his excellent site recording at concerts, including two of the finest live albums of the era, Lou Rawls' Live! and Cannonball Adderley's Mercy, Mercy, Mercy! Live at 'The Club'. Both artists tapped him for studio work as well, and Rawls especially benefited by scoring no less than five pop hits during 1966-67. Capitol rewarded one of its most successful producers just one year later, releasing Axelrod's solo debut, Song of Innocence. Based on the visionary, mystical poetry of William Blake (as was its follow-up Songs of Experience), the album sounded like nothing else from its era, with melodramatic strings tied to heavy, echoed breakbeats -- often supplied by session-drummer supremo Earl Palmer. After Songs of Experience, Axelrod turned his attention to the growing plight of the environment with 1970's Earth Rot.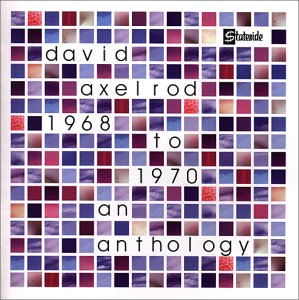 Cover of the '1968-1970 : An Axelrod Anthology' LP
Even aside from his burgeoning solo career, Axelrod stayed busy as a producer during the '70s; he recorded several Cannonball Adderley LPs plus works by Gene Ammons and Joe Williams. After 1980's Marchin', however, he took an extended hiatus from recording. Axelrod returned in 1993 with Requiem: The Holocaust on Capitol's Liberty subsidiary, and recorded a surprising tribute to roots music (The Big Country) two years later. After several big names in the dance community (including DJ Shadow) began sampling Axelrod grooves in the mid-'90s, Stateside released the retrospective 1968 to 1970: An Axelrod Anthology in 1999. Album reissues appeared the following year, and Axelrod even recorded a remix of "Rabbit in the Headlights," originally by the DJ Shadow project UNKLE. ~ John Bush, All Music Guide
Biography from Beggars Group, USA
"He was the coolest producer of the sixties, the mastermind behind the Electric Prunes' Mass In F Minor. David Axelrod's music is visionary, deeply rooted in soul and jazz." - Record Collector
"Axelrod's music: a signature sound of reverberating drums, twisted strings, and mournful singing, has a scale, a beauty, and a groove that you'll seldom find anywhere else." - NME
David Axelrod's contributions to music are immeasurable, from recording jazz classics in the 50s, 60s and 70s, to having his music form the backbone of recordings by Lauryn Hill, Dr. Dre, DJ Shadow and the Beatnuts, amongst others. He is steeped in musical history, from winding up an old Victrola gramophone for his brother to drum along with, to recording his latest album for Mo' Wax. He has produced both jazz giants and Hollywood film stars, and released an album preaching environmental awareness years before most had even heard of the ozone layer. The album that he wrote, arranged and recorded for the Electric Prunes provided the music that got both the Verve and Radiohead in the right frame of mind to go on stage. He has created music that is both visionary and deeply rooted in a soul and jazz tradition.
David was born into a family of working class radicals in Los Angeles. His father was a campaigner for union rights in an America that was none too kind to left wing agitation, and to this day, David is a proud liberal. After a stint as a boxer, he found himself caught up in a vibrant jazz scene that was no doubt boosted by the ready availability of studio work from the booming film and television industry. David was soon in demand as a producer and from there it was a short step to using his knowledge of music for writing arrangements. He produced his first classic album in 1959, Harold Land's The Fox - one of the few albums recorded that captured the majesty of this fine saxophonist.
In 1964, David joined Capitol Records as a producer and A&R man. Here he began to produce the series of records that would establish his name as a top-flight successful producer. Axelrod's first major success was with Lou Rawls. The singer up to this point had had middling success, but once he joined with David commencing with the Live album, gold albums and top 10 singles followed in a string, including "Love Is A Hurting Thing", "Your Good Thing Is About To End" and "Dead End Street" - which David wrote and produced.
His other key working relationship at Capitol was with Julian "Cannonball" Adderley who David will often describe as his best friend. As well as a series of great albums ­ often sourced as samples today, the working relationship spawned one of the biggest jazz hits of the '60s, the funky little groove of "Mercy, Mercy, Mercy." It climbed to the top 5 in the US pop charts. It was at about this time that David started to create the records that helped define the music of today; two lush, choral albums with the Electric Prunes, and his first two solo releases, Songs Of Innocence (1968) and Songs Of Experience (1969), both homages to the works of William Blake. These albums have a unique sound created in unison with the best quality musicians that LA could provide, including drummer Earl Palmer, bassist Carol Kaye (who played the bassline on the Beach Boys' "Good Vibrations") and the late, great guitarist, Howard Roberts. The combination of drums, bass and strings, forged into a booming spacey sound that in its clarity sounds totally contemporary. It is this music that has fired up a thousand Akai samplers. 1970 saw David record his opus to environmentalism, Earth Rot, leave Capitol and set up his own production company. It also saw the tragic death of his teenage son Scott.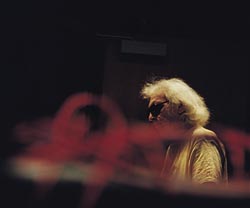 Current day David Axelrod
David withdrew from production for a while, and the 70s saw him record an impressive array of solo albums such as Messiah, The Auction and Heavy Axe. He also returned to working with Adderley, producing Cannonball's albums up to the saxophonist's death in 1975. The latter part of the decade saw him release a couple of albums for MCA including Strange Ladies. This record included the track "Tony Poem", replayed for use by Lauryn Hill on "Every Ghetto, Every City" from the Miseducation of Lauryn Hill LP. The 80s were a quiet time for David, but the 90s saw him back on the creative mettle with the release of his Requiem - a harrowing evocation of the Holocaust. It was an effective revamping of his trademark string sound, allied with eerie vocals. Around this time he also recorded an album of country cover versions - pure Axelrod style, and little short of amazing. With his rediscovery by a new generation, his profile has been raised with the re-release of the integral parts of his back catalogue through the compilation Anthology 1967 to '70 and a remix of UNKLE's "Rabbit In The Headlights".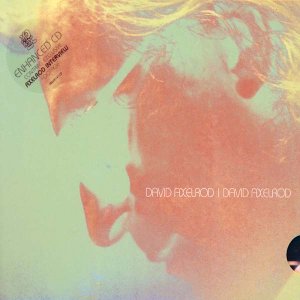 Cover of the 'David Axelrod' LP
This interest has culminated in the creation of his new album, simply titled David Axelrod for the Mo' Wax label. Using rhythm tracks that were originally recorded in 1968 for a proposed 3rd Electric Prunes album - Axelrod is virtually sampling himself, and is reclaiming for his own that which so many others have used. To this David has added new arrangements and has created a body of work that is both contemporary but redolent of the legendary Axelrod sound. The music was recorded using the same nucleus of musicians that recorded the classic albums of his past, and using the legendary studio 'B' at Capitol Records where he made his name - the rhythm section includes Carol Kaye, Joe Sample, Earl Palmer, and Ernie Watts on the horns. The recording includes the spine tingling "Loved Boy" - a song that David had written as a remembrance to his son Scott. For this David insisted on using the vocals of Lou Rawls - who was with him when he was told of Scott's death. It is their first collaboration in 30 years and is a major addition to the Axelrod canon. That David is so highly regarded in the hip-hop community is made clear by his ability to attract such a renowned rapper as Ras Kass to the project. Ras - like David a native Angelino - is part of the crowd that congregates around Dr. Dre, and has released two critically acclaimed albums on the Priority Label. David admires his poetic ability, which is allowed to run rampant on the CDs opener, "The Little Children".
The expansive orchestral sounds that make up the majority of the album have been titled after many of the people who have meant a lot to David over the years, from Harold Land ("For Land's Sake"), to hip-hop photographer Brian Cross ("Big B Plus"), and from the president of Fantasy Records ("Fantasy For Ralph") to DJ Shadow ("The Shadow Knows"). Moving in to his late '60s, David Axelrod still has the verve, energy and creativity of a man less than half his age. Unshakable in his vision, unfailing in his aim, this album is over thirty years in the making - an already classic album, from a classic artist.