The Electric Prunes
Cavestomp 2001! - 3rd November 2001
Brooklyn, New York, USA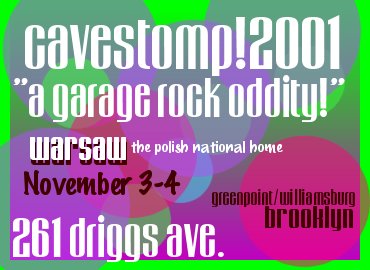 Further details from the CAVESTOMP Website!
The Electric Prunes have announced that they will play live at Cavestomp 2001! to be held on 3rd November 2001 at The Warsaw Polish National Home, 261 Driggs Avenue, Greenpoint / Williamsburg, Brooklyn, New York City, USA.
The line-up will be :
James Lowe - vocals, guitar, harmonica


Mark Tulin - bass guitar


Ken Williams - lead guitar


Joe Dooley - drums


Mark Moulin - rhythm guitar


Cameron Lowe - keyboards
TICKETS: $30 for single night pass/ $75 for three night pass. Tix can be purchased at The Village Underground Box Office, 130 W.3rd St., NYC everyday 1-8pm and online at: TICKETWEB or call toll-free: 866.468.7619.
E-Z DIRECTIONS: By train from Manhattan: L train to Bedford Ave. (one subway stop from Manhattan). From Queens: G train to Metropolitan Ave. By car from Manhattan: Williamsburg Bridge to- the BQE East-take the first exit on your right which is the McGuiness St. exit- make a left at the first light-take it four lights down- turn left on Driggs Ave.: WARSAW is 1/2 a block down on the left. (Look for the WARSAW blue/orange and the CAVESTOMP! green/purple flags.)