Artifact - The Electric Prunes (2001)
Reviews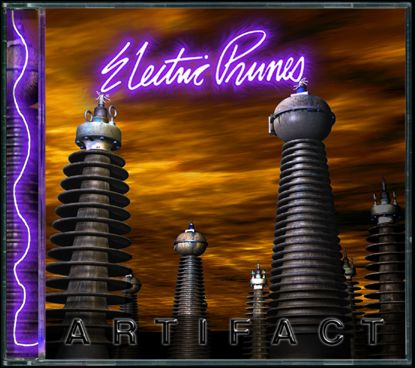 Review from 'All Music Guide'
Designed as The Electric Prunes 'real' 3rd album ('the one we never got to make', according to the liner notes), Artifact is a suprisingly fresh slice of psychedelic pop/rock. From guitarist Ken Williams' fuzz-toned launch on the albums' opener, 'Lost Dreams' through a series of wonderful new, original material and some brilliantly chosen covers, this record proves that The Electric Prunes haven't really lost any steps in their 30 year 'hiatus'. Lead vocalist James Lowe's arrogant, streetwise growl has actually aged quite well, and even at times sounds like he's morphed into Tom Petty, who was doubtlessly influenced by Lowe as much as by Roger McGuinn or Bob Dylan. Featuring almost all of the original members of the band, The Prunes all shine on this record, underlining the fact that they were and are fine players, despite their instrumental absence on some of their later Reprise albums. Lead guitarist Ken Williams playing still contains all of the tremolo-soaked, distorted fury of his earlier work (such as 'I Had Too Much To Dream Last Night'), but is also filled with a newfound sense of refinement and craft. 'The Phone Won't Ring' is an excellent example of this, and his supple, perfectly-placed riffing takes the song to another plane, making it one of the albums' highlights. The album features some guest performances, the most notable being former Moby Grape guitarist Peter Lewis, who's fingerpicking 12-string electric guitar work on a slowed-down cover of Love's classic '7 &7 Is' is positivily brilliant. But the album's finest moment may be a version of Randy Newman's 'The Dream I Had Last Night', which aside from cleverly echoing their afore mentioned 1967 'Dream' single, is a cohesive and brilliantly-arranged and executed slab of modern-day psychedelia. Not a lot of band's from the 1960's can re-group after three decades, let alone make as fine a record as this, and for that reason alone, Artifact is well-worth seeking out. ~ Matthew Greenwald, All Music Guide
Review from 'Twist and Shake' Magazine
The Electric Prunes are one of those awesome revolutionary bands of the sixties that got off to a roaring start, then suddenly vanished into the twilight zone. After garnering a pair of cutting edge singles 'I Had Too Much To Dream (Last Night)' and 'Get Me To The World On Time' in 1967, they changed personnel and direction, which eventually led to their disappearance altogether.
Having been incognito for more than thirty years, the Electric Prunes are back on stage and in the recording studio. 'Artifact' marks their return to disc, and I'm not stretching the truth in the least when I say they're just as wicked and wild as ever. They've held fast to the formula that initially awarded them accolades, so you can expect to hear shards of rattlesnake reverb all over the album.
'Artifact' is rigged with psychedelic slopes left and right, yet still sounds rabidly innovative and the energy exerted oozes with a youthful ebullience. Original songs like 'Lost Dreams', 'Analog Life', 'Castaway', and 'Le Fire' can only be described as compelling, and then there's renditions of Randy Newman's "The Dream I Had Last Night" and Love's '7&7 Is' that get the job done too.
The music on 'Artifact' is mesmerizing and mind-numbing, magnified by unusual arrangements, slithering keyboard passages, exhilarating acid-rock guitar licks and spooky spit and snarl vocals.
Lead singer James Lowe tells me the band had a lot of fun making the album, they did exactly what they wanted to and you can surely detect the excitement and looseness racing through the material. The Electric Prunes have always followed their own muse, and this inspired reunion record continues their tradition of excellence and individuality.
Review: Beverly Paterson - Twist and Shake
Electric Prunes - 'Artifact' Prunetwang 8-69696-9
www.electricprunes.net
2001
Review from 'Guitarist' Magazine