The Electric Prunes
Lost Dreams LP - A Message from The Electric Prunes!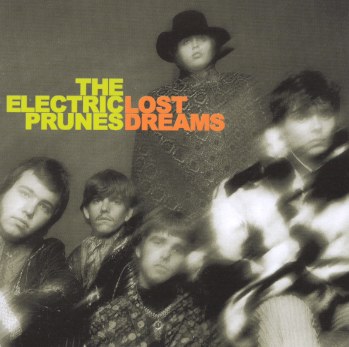 'Lost Dreams' LP Cover
Lost Dreams - The Electric Prunes (2001)
No.
Song
1
Shadows
2
Ain't It Hard
3
Little Olive
4
I Had Too MuchTo Dream (Last Night)
5
I've Got A Way Of My Own
6
Luvin'
7
I Happen To Love You
8
Are You Lovin' Me More (But Enjoying It Less)
9
Hideaway
10
Try Me On For Size
11
Great Banana Hoax
12
You Never Had It Better
13
Dr. Do-Good
14
Get Me To The World On Time
15
Captain Glory
16
World Of Darkness
17
Train For Tomorrow
18
Big City
19
Wind-up Toys
20
It's Not Fair
21
Sold To The Highest Bidder
22
Everybody Knows You're Not In Love
23
Long Day's Flight
24
Vox Radio Advert
LOST n' FOUND
Well, just when you thought it was safe to come out of the kitchen......here comes another Electric Prunes release!
This is THE one!
Four years ago David Katznelson got in touch with us and asked if we would like to remix our old stuff and create a compilation album that reflected the past works of the band. At that time this was to be a Reprise project. We (Mark and I) went into Penguin studios with Bill Inglot and David and went through the original 4 track tapes and remixed (analog, of course) almost all the stuff. There are 3 tracks that appear on this compilation that have never been released. We also got a good laugh from some banter between Dave Hassinger and the band during the recording sessions.
The Reprise thing dragged on and on and I promised everyone it was coming out time after time. I felt like an idiot when each release date came and went. I apologize to everyone for my eagerbeaverism. I had forgotten how the record business worked! Tell 'em anything.......maybe they'll stop calling. David Katznelson was convinced this collection should come out and was undaunted by the delays. Three cover art variations, a switch to Birdman Records, and four years later the project is ACTUALLY coming out!

While the band appreciated the Rhino Collectors Choice releases of the first three albums this summer, the mixes and recording levels were not what the record buyer deserved. Much of the material on those three albums is not reflective of the original band. I'm sure David Axelrod was not pleased with the "invasion" of the "new and improved Electric Prunes "Flowing Smoothly, Wade" on his fine concept album Mass in F minor. Insensitive, perhaps. Well this is the stuff of corporations and record companies that don't understand the music; they see "units" and sales figures.
Birdman's LOST DREAMS release is quite different. This is our definitive compilation album, reflective of the work we did, released by people that know this type of music, in an imaginative package with a great Gered Mankowitz cover! Not to mention the true story of the band as seen through the liner notes of music critic Don Waller. We suggest you check it out.
the Prunes