The Electric Prunes
Biography - Part 2
IF YOU DON'T FIRST SUCCEED, TRY, TRY AGAIN! (mid 1966 - late 1966)
With this line-up in place and signed to his independent production company, Dave Hassinger dispatched them over to Leon Russell's house (then a well known session musician) to record some demos. Russell had installed a recording facilities in his house called Sky Hill Studios.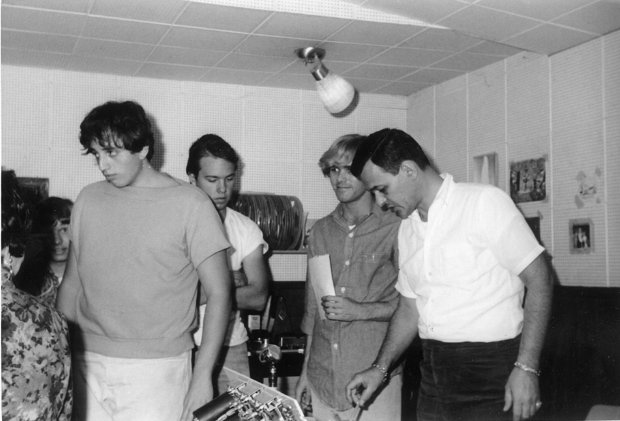 The Electric Prunes in the recording studio
From left to right : Mark Tulin, Ken Williams, James Lowe & Dave Hassinger
From the demos recorded at Russell's house, came the first Electric Prunes single - a cover version of the Gypsy Trips's song 'Ain't It Hard' written by the folk-rock group members of Roger and Terrye Tillison. This was backed with a Lowe penned song called 'Little Olive'.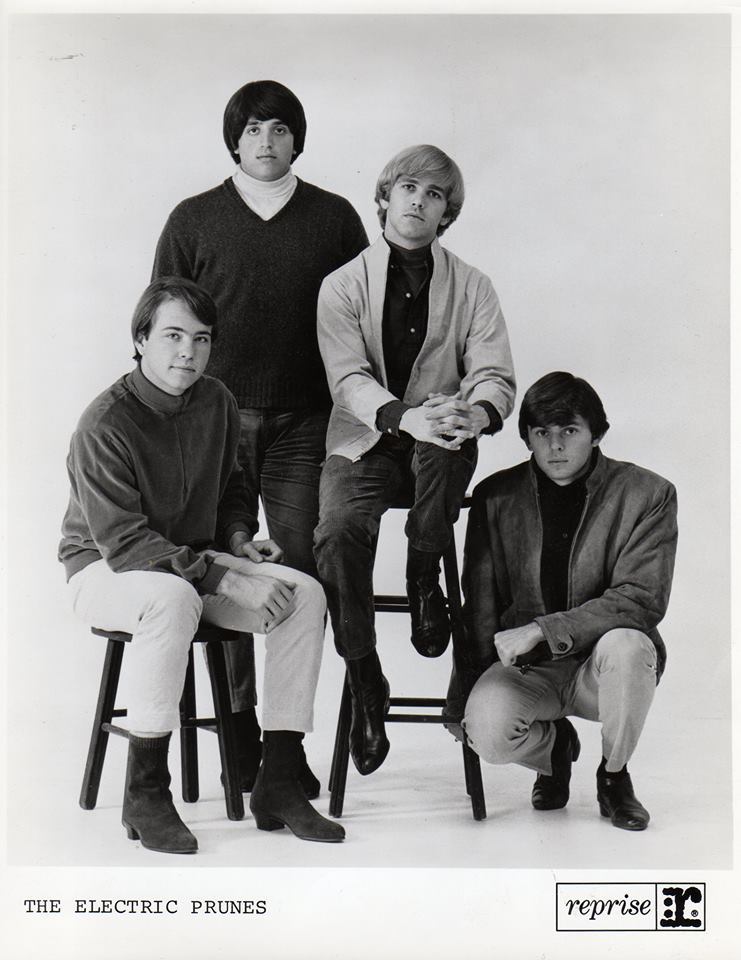 Early Reprise Records publicity photo of The Electric Prunes
Featuring Ken Williams, Mark Tulin, James Lowe & Michael Weakley ('Quint')
Unfortunately, this low-key single made little headway and seemed to have been totally forgotten as the Prunes' debut single. Luckily, Warner / Reprise liked what they heard and was ready to give them a second chance.
This second chance saw the emergence of a new drummer - Preston Ritter - introduced to the band by someone called Larry Miller who Ken and Mark knew from school. Quint left the Electric Prunes because of Dave Hassinger and the contract he had with the band. He subsequently went to Mexico to manage a mining operation for his father. Also, during this transition period, James 'Weasel' Spagnola was added on rhythm guitar just after the band had signed with Dave Hassinger.

James 'Weasel' Spagnola (b. Cleveland, Ohio, USA) - rhythm guitar


Preston Ritter (b. Stockton, California, USA) - drums
Publicity photo of The Electric Prunes used for several record picture sleeves
This new line-up with Ritter on drums recorded about six songs in the American Recording Studio in North Hollywood. Among these was a cover version of The Hollies' "I've Got A Way Of My Own", "Shadows" and a Annette Tucker / Nancie Mantz composition "World of Darkness".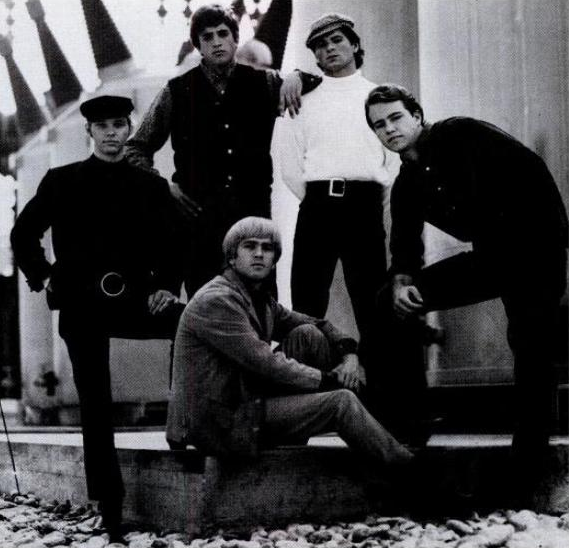 Trade ad for The Electric Prunes's single 'I Had Too Much to Dream (Last Night)' with the newly recruited 'Weasel' Spagnola & Preston Ritter
Return to the Biography Index!