The Electric Prunes
Biography - Part 9
JUST BEFORE THE END OF THE MILLENIUM.....THEY'RE BACK! (1999)
This nearly brings the history of The Electric Prunes up to date...but wait!
A new chapter in the Electric Prunes biography opened in 1999 with James, Mark and Ken back in the recording studio for the first time in over 30 years!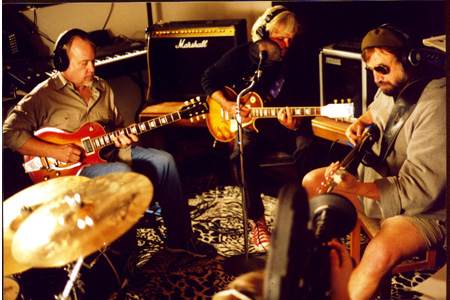 From left to right : Ken, James, Mark in the studio in 1999
James and Mark had been friends for a while and when Ken found this web site (www.electricprunes.com) he made contact with them. This inspired the three original members to met up, arrange to record some new material and a produce a band documentary.
James, Mark and Ken had started recording some tracks during the summer of 1999 when they invited Quint, now known as Michael Fortune, to the studio for the sessions. These historic recording sessions mean that, for the first time in over 30 years, the original Electric Prunes line-up of James Lowe, Mark Tulin, Ken Williams and Michael Fortune (Quint) have reformed to take on the world for the second time!
Return to the Biography Index!