Interview With Michael Fortune
(aka Quint)
Electric Prunes Drummer
(1965 - 1966; 1967 - 1968; 1999)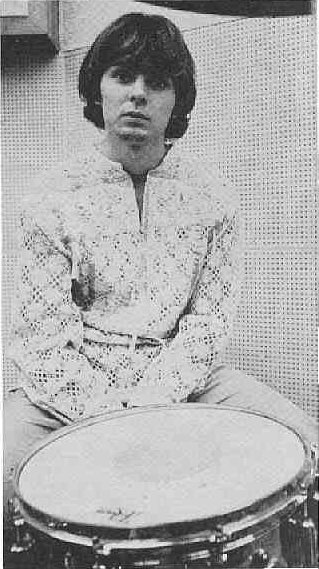 Michael Fortune (aka Quint) on the reverse cover of 'Mass in F Minor' LP
The following is an interview with Michael Fortune conducted via email in October 1999.
1. In the late 1960s you had the nickname Quint - where did this name come from? According to James, it was when you returned to the band for the second time that you were know as Quint - is this correct?
Quint came from my middle name Quenten - I changed the 'e' to 'i'. Yes, second time.
2. What did you do before becoming involved with the Electric Prunes?
I played with a super group 'The Fabulous Silvertones' from age 13 to 18 in the heart of the midwest Kansas City Mo. This was a very pro-four piece recording, touring, show band. We did originals as well as covers. Frank Plas was our lead 'GUITAR' PLAYER! Only those who heard him can tell you - he was one of the best of the best! I told Dave Hassinger about Frank - even got in touch with him. His wife wouldn't let him come out to California to audition for the Prunes.
3. How exactly did you become involved with the Prunes?
I met a BEAUTIFUL surfer girl named Rosemary my first day in California. I do believe we went wild over each other - Love at first sight! Rosemary's sister - Pam was married to James. One thing lead to another and James came to my house up the street and he sang and played guitar. I liked his voice then asked if he knew a guitar and bass player(s)? Yes - Mark and Ken.
4. Do you remember when did you became a member of the Prunes?
About 1965 - We were Jim and The Lords.
5. What were your musical influences at that time?
Muddy Waters , Freddie King, James Brown and The Famous Flames, Ike and Tina Tuner, Bo Diddley, Chuck Berry, Elvis, Jimmy Reed, Jerry Lee Lewis, Little Richard, Eddie Cochran, Gene Vincent, Bobby Blue Bland, Ray Charles and to many more to mention now. I got to see them all LIVE when I was in my early teens. Got to play their music just about every night with the Silvertones. The real Rock and Roll Rhythm and Blues!
6. What, in your opinion, were the musical influences of the band?
The English and American rock bands.
7. Did you model your drumming style on any drummers around at that time?
No, I did my own thing - still do - no copies.
8. After the release of the first single 'Ain't It Hard / Little Olive', you left the band and were replaced by Preston Ritter. Why did you leave the band at this stage? What were you doing while they made it "big"?
I left the Prunes because of Dave Hassinger. His contract was not my favorite reading piece - it sucked! I went to Mexico to manage a mining operation for my dad - still own the mine - may someday re-open now that we have an agreement with Mexico.
9. Did anybody try to persuade you not to leave the band e.g. band members, Dave Hassinger?
Can't remember.
10. How did you feel when the band hit the charts so soon after you had left with the hits 'I Had Too Much To Dream' and 'Get Me To The World On Time'?
I thought they sounded good - wished them the best.
11. How and why did you return to the band during the recording of the 'Underground' LP after Preston had left?
I got sick on the food in Mexico - came back home - went to James's house - asked him if he knew any bands that needed a drummer he asked me to re-join the Prunes and I did.
12. The photos issued with the band's records didn't always tie up with the line-ups at that time - was this an oversight or a deliberate ploy to make the public think that the band line-up didn't change? If this was the case, whose decision was it?
Don't know - probably an oversight.
13. Did you ever have any input into what the band recorded or write any material yourself?
Yes - co wrote 'Long Days Flight'.
14. Who decided on the band's musical direction?
Mostly Dave Hassinger.
15. How did Mantz and Tucker come to write many of the band's songs?
Hassinger picked the material and writers - the band didn't have much leverage.
16. How do you think the band got on with with the producer Dave Hassinger, the manager Lenny Poncher and the record label Reprise?
At first things were okay - later the band were at odds with Lenny and Dave.
17. At the end of 1967, you and the band did your first and only tour of Europe. What do you remember about this tour? Have you heard the live LP recorded on this tour - 'Stockholm 67' which was released in 1997 and what did you think of it? Also, did you enjoy the touring aspect of the band or did you prefer to be in the studio?
The tour was fantastic - partied with Hendrix - Chad Chandler - Noel Redding - Jeff Beck - Mitch Mitchell - Keith Emerson - The Moody Blues - Paul McCartney and friends. Lots of great people and good times! The Stockholm album is a gem. Love it. Would love to go back and play Stockholm again! I'll talk to the guy's - see you there.
18. Who decided on bringing in David Axelrod for the 'Mass in F Minor' LP?
Lenny Poncher.
19. What was the reaction to the idea of the 'Mass in F Minor' LP by the group?
Mixed feelings - something new to try.
20. What do you remember about the recording of 'Mass in F Minor' and how did Dave Hassinger's Canadian band The Collectors become involved?
Mass was really not our thing - more Jazzy kind of thing and we weren't a jazz band. Collectors did some overdubs etc. This was Dave Hassinger brain storm.
21. 'Mass in F Minor' seemed to mark the end of the original Prunes as a band. What do you remember about the period when the group was falling apart?
The group was not falling apart - there were some minor problems nothing big.
22. When and why did you eventually leave the band?
I just did not like flying it became a real concern with me so I told James I was leaving the band. Jan. 1968.
23. Did the others leave at the same time as you?
No - they split up later.
24. When did The Electric Prunes finally finish and were any final farewell concerts played?
Not to my knowledge.
25. Was it fun to be in the Electric Prunes? When did it stop being fun?
It was always fun and great - Flying was the only reason I stopped.
26. What did you do after immediately leaving The Electric Prunes? What have you been doing over the last 30 years?
I started my own party and kept it going for 30 years - no kidding about that it cost me close to a million dollars - had a great time.
27. In recent years there has been a large resurgence in the popularity of the Prunes, what are your thoughts on the band 30 years on?
I think we will blow out some jams!
28. In 1999, James, Mark and Ken were back in the studio for the first time in 30 years. How did you feel meeting up with the guys after all this time and playing with them again?
Great its beyond description. The new Prune sound is authentic - Heavy Psychedelic Guitar - Great vocals - Driving Bass - and hope you like the drummer.
Like I said - Blow out some windows! I'll send pics.
ELECTRIC MICHAEL