Release Of An Oath (The Kol Nidre)
- The Electric Prunes (1968)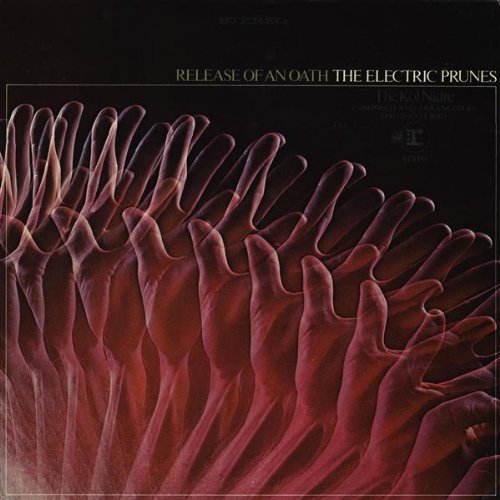 'Release of an Oath' LP Cover

"Through the centuries and out of the travail of the past, man has many times, in his search for a better life, been forced by powers beyond his control to foreswear the principles of his fathers and to accept the yoke of a conqueror who might vanquish his body, but not his soul. But no man of principle can live with himself having foresworn the ideals that he lives by. In yearning to free his spirit of the conqueror's yoke, he has conjured up a psychological release that enables him to break the chains that bind him to any oath made under duress and in violation of his principles. Such a lament is the Kol Nidre - a prayer of antiquity which cleanses the spirit and enables man to start anew, with his eyes again on the stars.

This, then, is the music of the Kol Nidre, which is as modern and meaningful today as when it was first written. David Axelrod has brought the music into a contemporary stance by blending the melodies of the centuries with today's contemporary sounds. David Hassinger has taken the efforts of David Axelrod and, with his provocative talents, has in turn blended them into this artful presentation by The Electric Prunes."

(Jules B. Newman - cover of 'Release Of An Oath')

Songs

Side 1

1. Kol Nidre (Axelrod) 4.14

2. Holy Are You (Axelrod) 4.05

3. General Confessional (Axelrod) 4.15

Side 2

1. Individual Confessional (Axelrod) 2.10

2. Our Father, Our King (Axelrod) 3.10

3. The Adoration (Axelrod) 3.48

4. Closing Hymn (Axelrod) 2.53

Personnel

Richard Whetstone - Drums & Lead Vocals


Howard Roberts - Guitar


Carol Kaye - Bass Guitar


Earl Palmer - Drums


Don Randi - Keyboard


Gary Coleman - Percussion


Lou Morell - Guitar

Produced by : Dave Hassinger
Composed and arranged by : David A. Axelrod
Recorded at : The Sound Factory, 6359 Selma, Hollywood, California
Cover Photo : Sid Avery
Art Direction : Ed Thrasher
Mr. Axelrod's services were available through the courtesy of Capitol Records, Inc.
The Release of an Oath LP has been widely used in the 1990's for samples on many hip-hop records. The-Breaks.com lists the following :
* "Holy are You" : Fat Joe - "Respect Mine", Howie B - "Take Your Partner by the Hand" and Quasimoto - "Return of the Loop Digga"
* "General Confessional" : Beatnuts - "N----s Know", Black Moon - "Duress", Quasimoto - "B.S." Rampage - "Flipmode Iz Da Squad" and Wu-Tang Clan - "The Monument"
* "The Adoration" : Beatnuts - "World Famous" (Intro on Stone Crazy)
Also "Gloria" from the Mass in F Minor LP has been sampled by Adeem on "Forgotten Habit".
Check out Richard Whetstone's interview with Eothen Alapatt on 'The Origins of Hip-Hop' radio programme (February 14th, 1999) for further details.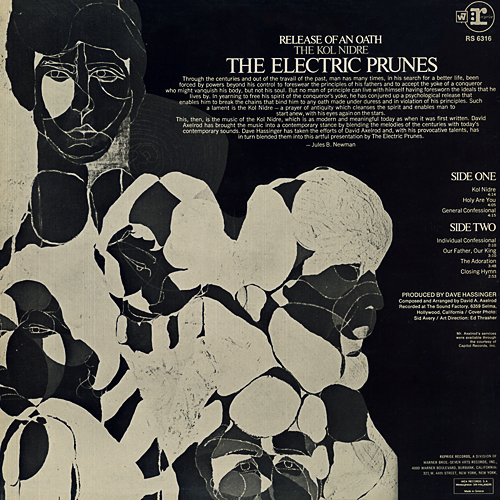 'Release of an Oath' LP Reverse Cover showing the picture that appeared on the band's first LP