Release Of An Oath (The Kol Nidre) & Just Good Old Rock And Roll - The Electric Prunes (1997)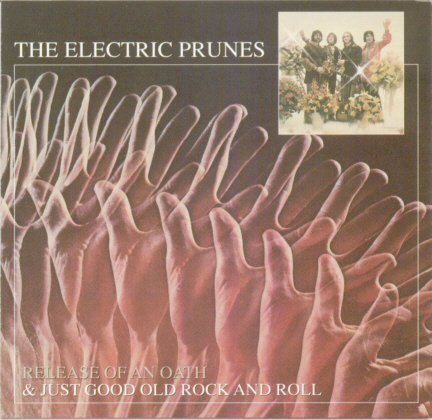 'Release Of An Oath (The Kol Nidre) &
Just Good Old Rock And Roll' CD Cover
Background Information
This CD was released by the Head label. Just like the 'I Had Too Much To Dream (Last Night) & Underground' double CD, the audio is not CD quality and at the end of each track it sounds as if the CD was recorded from the vinyl albums. Despite this fact, it is nice to have Electric Prunes material on CD!
Review by Delerium Records
Albums four and five from the Prunes. "Release.." is wonderful heavily-orchestrated spiritual psych with trippy fuzz guitars and Gregorian chants, while "Just.." is a hard acid rock album with a few MC5 like killers and more mainstream fayre...
Songs
1. Kol Nidre (Axelrod) 4.14
2. Holy Are You (Axelrod) 4.05
3. General Confessional (Axelrod) 4.15
4. Individual Confessional (Axelrod) 2.10
5. Our Father, Our King (Axelrod) 3.10
6. The Adoration (Axelrod) 3.48
7. Closing Hymn (Axelrod) 2.53
8. Sell (M. Herron / John Herron) 3.13
9. 14 Year Old Funk (Bill Daffern / Ron Morgan) 3.31
10. Love Grows (Bill Daffern / John Fleck / Ron Morgan / Brett Wade) 4.07
11. So Many People To Tell (Brett Wade) 4.00
12. Finders Keepers, Losers Weepers (Jimmy Holiday / Jimmy Lewis / Cliff Chambers) 3.30
13. Giant Sunhorse (Bill Daffern / Ron Morgan / Larry Tamblyn / Brett Wade) 4.06
14. Violent Rose (John Herron / Dick Whetstone) 2.42
15. Thorjon (Mark Kincaid / Brett Wade / Dick Whetstone) 2.58
16. Silver Passion Mine (Brett Wade) 2.53
17. Tracks (M. Herron / John Herron) 2.44
18. Sing To Me (Brett Wade) 3.22
Bonus tracks which did not appear on either LP and not listed on the CD cover :
19. Hey Mr. President (Barkan - Adams) 2:47
20. Flowing Smoothly (Brett Wade) 2:47
Personnel

John Herron - Organ


Brett Wade - Bass Guitar, Flute & Vocals


Ron Morgan - Guitar


Mark Kincaid - Guitar & Vocals


Dick Whetstone - Drums & Lead Vocals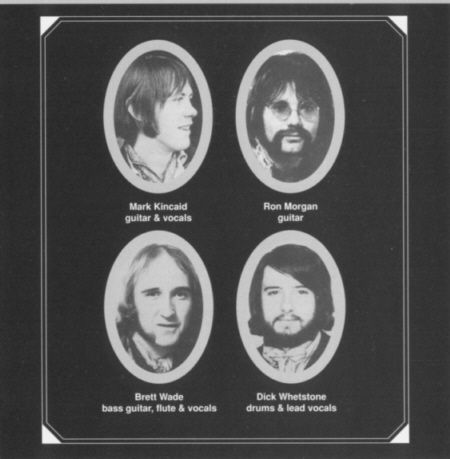 The Reverse Cover of 'Just Good Old Rock And Roll'
Produced by : Dave Hassinger