Underground - The Electric Prunes
(Australia & New Zealand - 1986)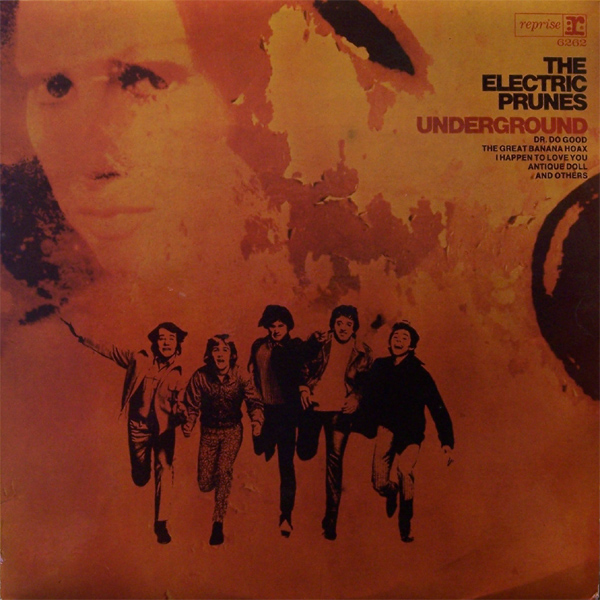 'Undergound' LP Cover Released by Reprise in Australia & New Zealand in 1986
"Black Light; Flashing Thoughts; Distinctiveness; Explosiveness; Possessiveness; Colored Lights; Five Multi-Faceted; Weirdly Connected; Ten Legs; Twelve Arms; One Eye; One Mind; One Direction; Prunes, Pits, Stems; Shocking, Electric!"
(Barbara Harris - cover of 'Underground')
Review by AMG
The Electric Prunes' second album was just as uneven as their debut, and lacking the obvious hit material its predecessor had boasted in "I Had Too Much to Dream (Last Night)" and "Get Me to the World on Time." However, at least a more consistent tone and recognizable group identity asserted itself, as the band wrote half of the material. In addition, the periodic airy-fairy vaudevillian misfires that had dotted the first LP were thankfully abolished. Many of the tunes, whether from the band or their frequent outside contributors Annette Tucker and Nancie Mantz, had floridly inscrutable lyrics -- "The Great Banana Hoax," "Children of Rain," "Dr. Do-Good," "Antique Doll" -- of the kind that some hip critics like to scorn as dated and naive flower-power relics. At the best points of this album, though, the Prunes conjured a menacing psychedelic pop atmosphere that, in conjunction with their flair for unusual guitar reverb and sundry special effects, sounded fetchingly spooky and seductive. "Hideaway," with its killer bass riff, and the demented "Dr. Do-Good," a crazed children's hour theme gone amok, were standouts in this regard, while "Long Day's Flight" is one of their best psych-garage tracks. On a more straightforward level, "I Happen to Love You" is one of the best obscure Goffin-King covers you're likely to hear, and one of the bluesiest too. -- Richie Unterberger, All-Music Guide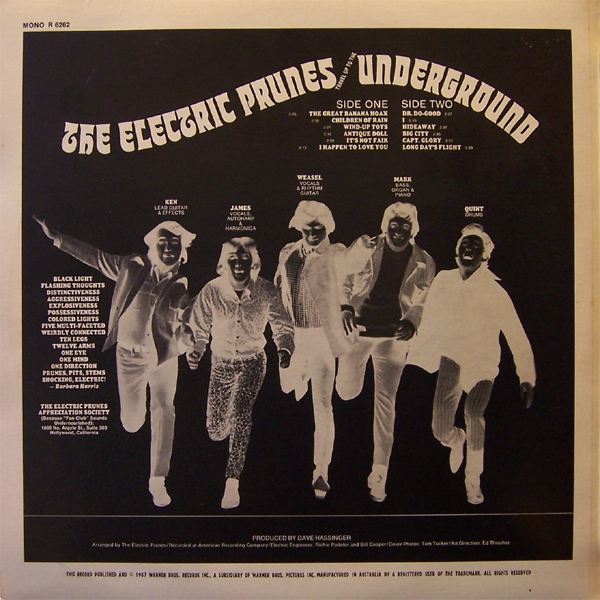 'Undergound' LP Reverse Cover
Songs
Side 1
1. The Great Banana Hoax (Lowe / Tulin) 3.05
2. Children Of Rain (Williams / Williams) 2.30
3. Wind-Up Toys (Lowe / Tulin) 2.27
4. Antique Doll (Tucker / Mantz) 3.10
5. It's Not Fair (Lowe / Tulin) 2.00
6. I Happen To Love You (Goffin / King) 3.12
Side 2
1. Dr. Do-Good (Tucker / Mantz) 2.27
2. I (Tucker / Mantz) 5.10
3. Hideaway (Lowe / Tulin) 2.37
4. Big City (J. Walsh / D. Walsh) 2.45
5. Capt. Glory (J. Lowe) 2.11
6. Long Day's Flight (Weakley / Yorty) 3.09
Personnel

James Lowe - Vocals, Autoharp & Harmonica


Mark Tulin - Bass, Organ & Piano


Ken Williams - Lead Guitar & Effects


'Weasel' Spangola / Mike Gannon - Vocals & Rhythm Guitar (See Note 1)


Preston Ritter / Quint - Drums (See Note 2)

Note 1
Near the end of recording 'Underground', Weasel Spagnola left the band due to medical reasons and was replaced by Mike Gannon, although Spagnola was still credited on the album cover with photo and name. Gannon joined just in time to only record two songs - 'Long Day's Flight' and 'The Great Banana Hoax'.
Note 2
Preston Ritter left during the recording of 'Undergound' due to musical differences. He was offered the choice between being credited on the album cover with photo / name or have royalties from the album sales. He choose the royalties. Unfortunately, he got no album credits or royalties!!!
Preston Ritter's replacement, Quint, actually only played on five tracks on the albums - 'Children of Rain', 'Antique Doll', 'I', 'Captain Glory' and 'Long Day's Flight'.
Produced by : Dave Hassinger
Arranged by : The Electric Prunes
Recorded at : American Recording Company
Electric Engineers : Richie Podolor and Bill Cooper
Cover Photos : Tom Tucker
Art Direction : Ed Thrasher
On the cover of 'Undergound' was the address of the "fan club" :
The Electric Prunes Appreciation Society
1800 North Argyle Street
Suite 303
Hollywood
California