Mass In F Minor - The Electric Prunes
(Germany - 1990)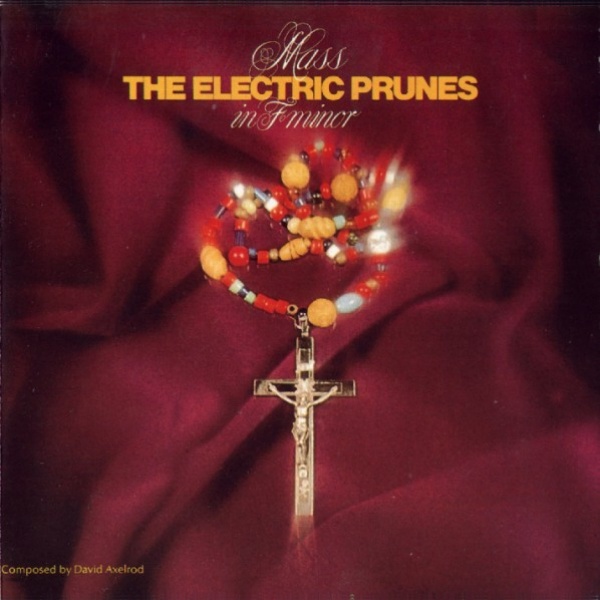 'Mass in F Minor' CD Cover Released by Linea Records in Germany in 1990
Background Information
This CD was released by the Linea label from Germany in 1990. Unfortunately, it is now out of print in Europe and only available second-hand. Click here to go to the original album and click here to see large album covers!
Review by AMG
Using the Electric Prunes to perform a pseudo-religious concept album constructed as a psychedelic mass (and sung in Latin) must have, to use the old cliche, seemed like a good idea at the time. One strike against the project from the outset was that it was not the brainchild of the group so much as of outside business forces, who wanted them to perform the material, which was wholly composed, arranged, and conducted by David Axelrod. It's not all that bad, both for its novelty value and for the pleasing imagination of much of Axelrod's arrangements. These match heavy organ with the usual heavy Electric Prunes guitar reverb, as well as choral harmonies, semi-acid freakout guitar soloing (which sounds like the Jefferson Airplane in spots), and dabs of horns and orchestral instruments. It's not all that great, either, sounding forced and dated in some respects. Undoubtedly the highwater mark is "Kyrie Eleison," which was featured in the Easy Rider soundtrack (how did Peter Fonda find the tune?), and boasts some enchanting guitar tremolo, harmonies, and stop-start tempos. Incidentally, it's since been discovered that much of the music was played not by the Prunes, but by session musicians and the Canadian band the Collectors. -- Richie Unterberger, All-Music Guide
Songs
1. Kyrie Eleison (Axelrod) 3.18
2. Gloria (Axelrod) 5.42
3. Credo (Axelrod) 4.58
4. Sanctus (Axelrod) 2.52
5. Benedictus (Axelrod) 4.48
6. Agnus Dei (Axelrod) 4.25
'Mass in F Minor' Track Listing
Personnel
Exact personnel unknown but the following is what has been determined thusfar :
Original members of 'The Electric Prunes' whose pictures appear on the album cover and who recorded the first three tracks on the album (i.e. the line-up from the European Tour 1967) :

James Lowe - Lead Vocals


Mark Tulin - Bass & Organ


Ken Williams - Lead Guitar


Mike Gannon - Rhythm Guitar


Quint - Drums

Mark Tulin and Quint played on every track and James Lowe did all the lead vocals. Richie Podolor, the band's engineer, also helped out on guitar! Ken Williams added some solos.
The Collectors were brought in by Dave Hassinger to complete the project due to time pressures.
The line-up of The Collectors at this time was :
Howie Vickers - Lead Vocals


Bill Henderson - Lead Guitar, Lead Vocals & Keyboards


Claire Lawrence - Saxophone, Flute, Keyboards, Harmonica & Vocals


Glenn Miller - Bass and Vocals


Ross Turney - Drums
Produced by : Dave Hassinger
Written and arranged by : David Axelrod
David Axelrod's services courtesy of Capitol Records
Art Direction : Ed Thrasher